"Maiah, Kelly Cutrone is at the lounge and she wants to buy the furniture! Can you get here now?" Was the text I received from one of my models at the Maybelline Lounge we built this year. It was Day 8 of fashion week and I was weary. I'd just come from the Issac Mizrahi show with my childhood bestie and all I wanted to do was relax when this text came buzzing through my iphone.
I ran up and spotted her immediately:
"Hi, I'm Kelly" ... oh, oh hey! "I love this furniture. I just bought a new rug and this is exactly what I need for it. Can I buy it?"
Wait, is this real life? Does anybody know? ... think quick!
Was running through my head as I gawked at this New York style institution standing in my space. "Um, they are rental pieces, but I can ask!"
"You're nice. Want to come to my show Davidelfin?"
And with that, I was whisked away from my childhood bestie and my booth and escorted back to The Studio for the 1pm show. Kelly sat me with her friends and family in the second row, where I found myself behind
Eric West
(who?) and am appearing in many a photo behind him looking completely oblivious. Evidence: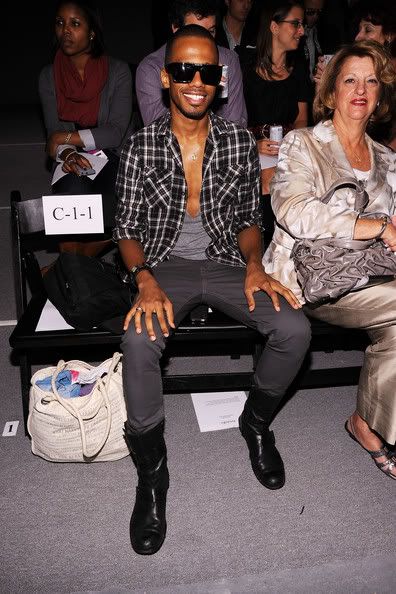 I'm the one in the blazer and red scarf, looking slightly confused
The show itself was slightly confusing for me. To be honest, I wasn't sure what to expect. With
curious hairstyles
,
interesting designs
, and
sexually ambiguous models
, I was pretty speechless the entire time.
That said, my two favorite models are below: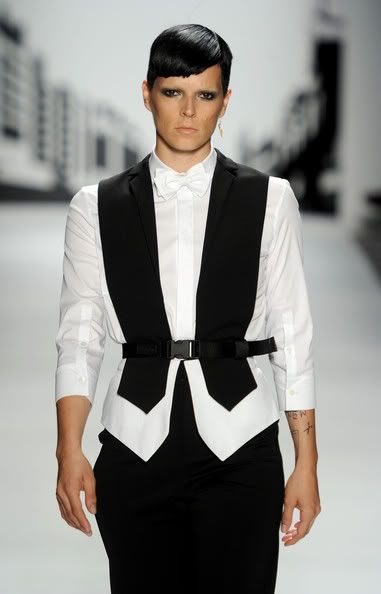 When homegirl opened the show in that gown, all you could hear were whispers of confusion. Man? Woman? Clearly, the cut isn't the best for her body - the broad shoulders and badass tattoos left us all confused. When she returned to the runway in the second outfit, I completely fell in love with her. I LOVED seeing her on the runway with full hips, a booty to be jealous of, and a full bust that was compressed in the first look. Love. Plus, she worked the sky high
Davidelfin for Louboutin
shoes like no one else on the runway.
My second favorite is the model above. The make up, which featured only smokey eyes and nude lips, looked best on her skin tone. Isn't she just adorable?
While I don't think I would find myself in any of the looks that hit the runway, I thoroughly enjoyed the show. Getting a glimpse into Kelly's world was an incredible way to end my New York Fashion Week S/S10. Well worth looking like a total nerd in the background of every picture of Eric West.
Tweet